Meet Holly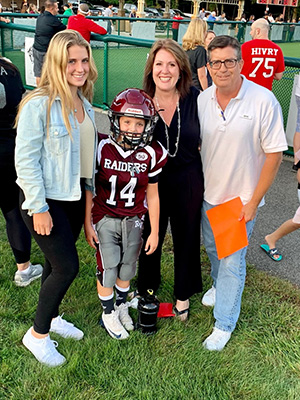 Holly Schepisi has been an Assemblywoman since 2012 and was sworn into the Senate to fill the seat of the late Senator Gerry Cardinale on March 26, 2021. Senator Schepisi represents the 39th Legislative District, which includes twenty municipalities in Bergen County and three municipalities in Passaic County. Ms. Schepisi earned Bachelor's degrees in politics and psychology in 1993 from Catholic University of America and a law degree from Fordham University Law School in 1997.
Senator Schepisi is a practicing attorney and started her own firm, Schepisi Consulting & Law, LLC. Most recently, she served as Vice President of Holy Name Medical Center and President of its Foundation. Prior to her role at Holy Name, she was special counsel at the law firm of Huntington Bailey, LLP, where she practiced governmental law, corporate law, land use law, employment matters, criminal defense, and structured finance law.
Experienced in public issues, she served as the public defender for the Borough of Oakland from 2012 to 2014, and was the township attorney for River Vale from 2007 to 2011. She is a board member of the Bergen Community College Foundation and serves as an advisory board member of SB One Bank.
Senator Schepisi serves as a member of the Senate Health, Human Services, and Senior Citizens Committee and the Senate Labor Committee. While in the Assembly, among other things, she has been one of the most vocal representatives in Trenton fighting against overdevelopment in our district, fighting to reopen our restaurants, bars and small business, fighting to get our children back to school under safe conditions and fighting against the increased tax burdens and uncontrolled spending driving out our middle class. She has introduced legislation to change the unfair school funding formula that disproportionately impacts our District 39 communities and is the primary reason for our high property taxes.
During the COVID-19 pandemic, her office has served as the primary point of contact for residents both in and outside of District 39 for unemployment issues, for seniors and those at high risk who are having trouble getting vaccinated and for our local business owners.
The Senator resides in River Vale with her husband and two children.